'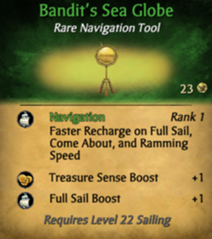 Bandit's Sea Globe is a Rare Navigational Tool which is equipped with a Rank 1 Navigation, a Treasure Sense boost and a Full Sail boost. This Sailing Item can help the sailor who has it greatly improve their Sailing skills.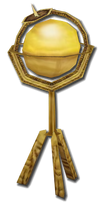 Game Note
This item is a bonus item in the Raven's Cove Story Quest. You need to have at least level 20 fishing, thereby able to catch a Legendary Fish, before you can obtain it.
Weapon Group: Robbers Globe Group
Community content is available under
CC-BY-SA
unless otherwise noted.