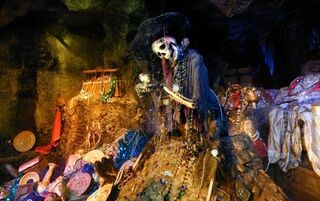 Pirates of the Caribbean is a dark water ride that opened at Disneyland in March 18, 1967. It would be opened in other Disney parks, Magic Kingdom, Tokyo Disneyland, and Disneyland Paris. Pirates of the Caribbean is one of the world's most popular and well-loved Disney attractions. The ride inspired the film series of the same name, as well as all related material based on them.
This was the last attraction that Walt Disney himself participated in designing; with it opening three months after his death. He was instrumental in bringing this attraction to life, and was involved with the project until the end of his life. Walt's theme park design division (known as WED) created a remarkable world for the pirates to live in, relying on the talents of some of the best creative minds in the entertainment field. With the help of his Imagineers, Disney created a boat ride featuring thrills, chills, and space-age robotics known as "Audio-Animatronics" to bring life to the multitude of salty characters that make the Pirates of the Caribbean the fascinating experience that it is.
A water ride, guests float through an immersive, larger-than-life pirate adventure featuring gunshots, cannon blasts, and burning buildings, all set to pirates carousing and pillaging. Given the changing times, some elements of the ride were updated to be less bawdy and several characters from the films were added, mainly Captain Jack Sparrow and Captain Barbossa. The ride is also found as an actual level in LEGO Pirates of the Caribbean: The Video Game. However, the ride is not found in Pirates Online and is probably not planned for the future.
External Links
Community content is available under
CC-BY-SA
unless otherwise noted.